AI Produced Video - Coming to the next video near you.  
In an age of information overload, video has emerged as the medium of choice for brands to grab audience attention.  However, producing professional video content at the volume and speed required to keep pace with competitors is nearly impossible using human skills alone. Advancements in artificial intelligence are providing a solution in the form of automated video creation tools. AI video generation platforms can translate scripts, blog posts or product copy into tailored footage in minutes.  
In my previous article: The Rise of AI Video Generation: 8 Tools Creating Synthetic Media - (May 2023) several AI video generation tools were discussed and reviewed.  In the following article we will discuss how digital marketers can harness synthetic media opportunities with AI.
For digital marketers, AI video solves the challenges of developing a constant stream of visual content for social channels, websites, ads, email campaigns and more. Using AI, marketers can also personalize unique videos to different segments based on metrics and analytics. The result is dynamic, data-driven content tailored for maximum impact and conversion with each audience.
Imagine having access to a team of video editors, animators, voiceover artists,
and CGI specialists ready to produce footage on-demand, 24/7.
AI video generation makes this a reality, enabling marketers to keep up with the growing demand for video in both B2C and B2B companies. Brands can now tell their stories, explain products, share knowledge and build connections on video with an unmatched speed and scale.
An AI-Powered Content Creation Tool for the Modern Marketer
Major players like Runway, Synthesia.io, and Adobe Firefly
taps into the latest advancements in artificial intelligence to handle the repetitive, mundane tasks that slow down content generation. With The Runway, marketers can focus on developing their ideas rather than worrying about how to execute them.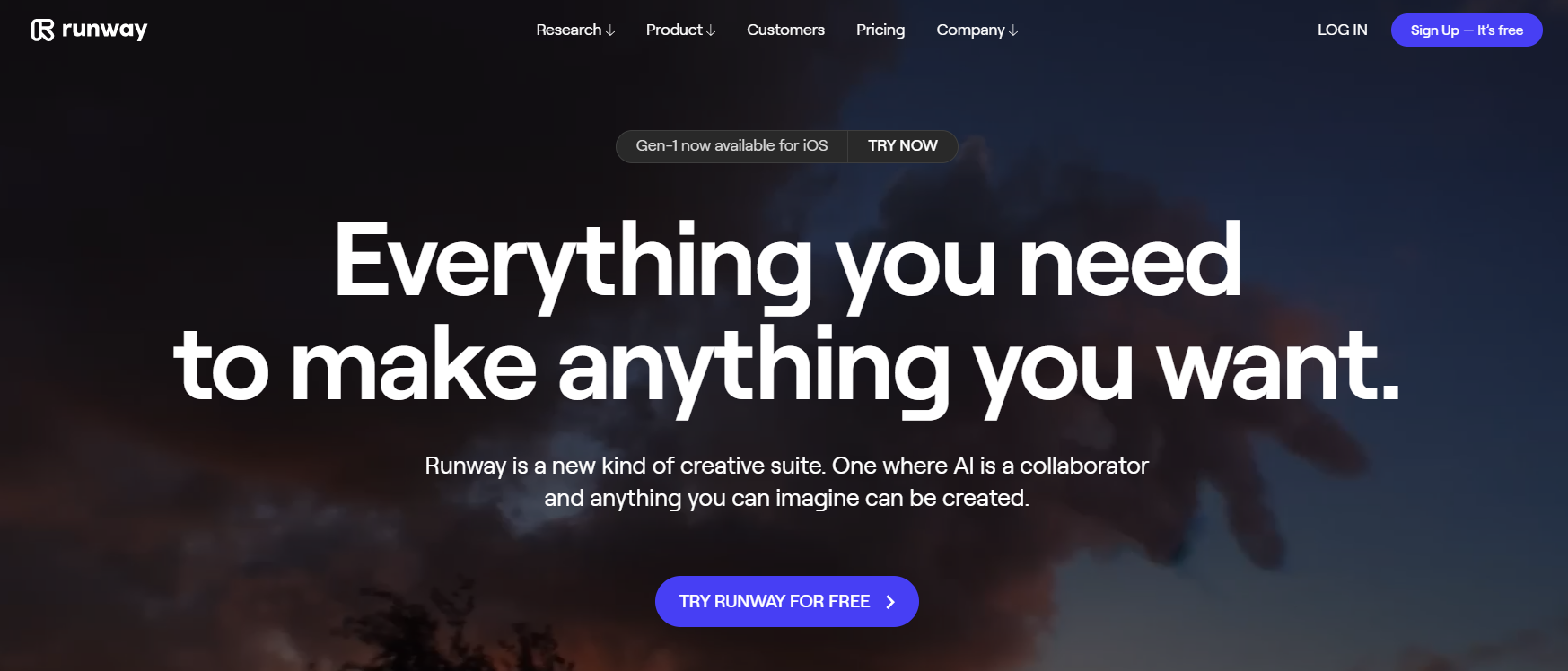 The Runway platform provides capabilities such as:
• Text-to-image generation: Transform copy into professional images in seconds. Select styles, backgrounds, fonts, and more.
• Text replacement and removal: Effortlessly edit images by adding, removing or changing text. The AI replicates backgrounds and styles.
• AI model training: Teach the AI your brand's unique image styles, color palettes, and preferences for automatic customization.
• Text-to-color grading: Have color palettes automatically generated to match your content and brand.
• Super slow motion: Create dramatic slow-motion effects using AI frame interpolation.
• Endless image generation: Produce an endless stream of new, on-brand images from one initial photo.
• Video editing features: Access tools like green screen, motion tracking, stabilization and inpainting to enhance footage.
Runway allows creators at every level of technical skill to leverage the power of artificial intelligence for content generation and video editing. With its simple yet advanced suite of features, marketing teams can develop a constant flow of tailored, on-brand visual content to boost audience engagement across channels.
For marketers struggling with limited resources and growing pressure to perform, Runway offers an automated solution. By handing repetitive tasks over to AI while keeping human creative direction, Runway enables brands to gain a competitive edge through data-optimized, personalized content at scale. Streamlined production helps solve the challenges of developing content for today's fast-paced digital marketing world.
is a platform designed to make making and sharing interactive videos easier. The goal of Synthesia.io is to make it easier for anyone to make videos that are both interesting and useful for a wide range of reasons, such as advertising, training, and product demonstrations. The website claims Synthesia.io provides users with a library of premade video enhancements, a drag-and-drop video editor, and customizable video templates. Interactive features, such as polls and quizzes, may be added to videos, and the platform provides tools for evaluating and assessing video performance.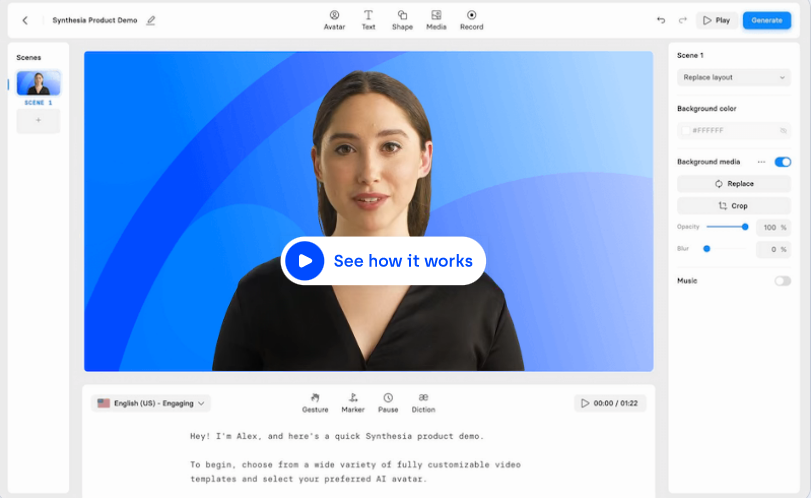 Harness the power of Adobe Firefly AI Art Generator to convert text into various forms of visual art such as images, vectors, movies, and 3D models. The toolset includes features developed using generative artificial intelligence, specifically tailored to cater to the needs, applications, and workflows of creators.

With Adobe Firefly, producers have the convenience of swiftly modifying elements such as a video's ambiance, illumination, and weather conditions. It also enables users to produce bespoke promotional materials and social media content, like posters, banners, and social media posts, just from a single line of text.
This application has the potential to metamorphose simple designs into realistic images and generate new 3D styles and variations promptly. Adobe's dedication to giving artists a competitive edge in both creativity and functionality is evident in this tool. This commitment also extends to their pioneering efforts in developing innovative, generative AI technologies.
AI video generation platforms offer attractive marketing use cases.
Their technologies can create product explainers, how-to's, brand stories, testimonials and more based on the marketer's script or copy. The AI then optimizes the footage for the target channel and audience, capturing the brand's unique style and voice. Marketers simply input the content and select visual themes, backgrounds and presenters from options provided.
While still an emerging technology, AI video creation is poised to transform digital marketing. Brands will rely on these tools to gain a competitive edge, boost audience engagement and build personalized connections across key segments.
Automated, tailored footage at scale will enable a new level of dynamism and relevance in video marketing content.
AI video generation makes it possible for even small marketing teams to produce a constant stream of professional video assets optimized for their needs. For brands struggling to keep up with the demand for new visual content, synthetic media offers a sustainable solution.
With AI and human working together, the future of video marketing is both automated and customized for the individual. AI video platforms put customized, conversion-focused footage within reach of organizations large and small. There has never been a more powerful tool for brands to stand out, engage key audiences and build loyalty through storytelling and knowledge sharing.
For digital marketers, synthetic media provides capabilities once only possible at tremendous cost and scale.  
The rise of AI video heralds a new frontier of dynamic, data-driven visual content.
Are you ready to harness its potential?
Gain a competitive edge and boost audience engagement through personalized video with AI video generation.
The future of marketing is both human and machine.