In the rapidly advancing world of AI, get ready to step up your productivity and creativity game like never before!
In our previous article, The Rise of AI Video Generation: 8 Tools Creating Synthetic Media - (May 2023) we discussed 8 AI video based tools to create synthetic media.
The Rise of AI Video Generation: 8 Tools Creating Synthetic Media - (May 2023)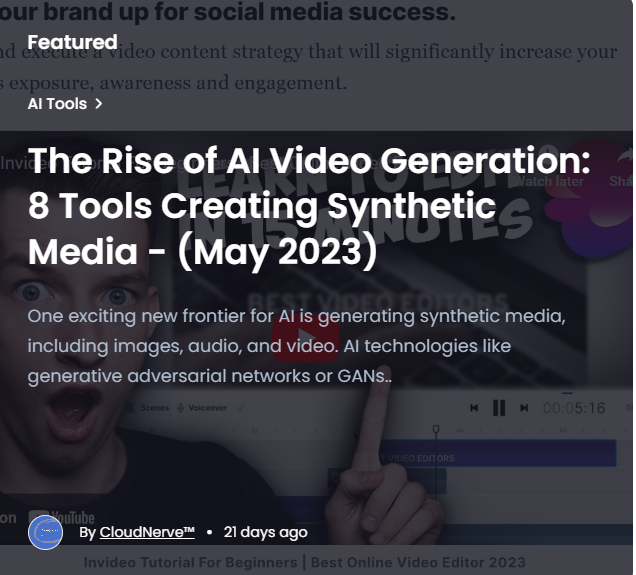 This article will take you on an enlightening journey for the latest June 2023 AI tools, introducing you to the newest AI-powered tools that are completely transforming how we work, create, and communicate. From AI planners that seamlessly manage your schedules to cutting-edge AI video generators, from intelligent assistants that personalize your workflow to AI email managers making your digital communication hassle-free.
We also highlight a game-changing AI image generator that's reshaping the design landscape and much more! Explore these game-changing tools that are set to redefine your digital life, boosting your efficiency and providing unprecedented convenience.
Ready to embrace the future? Let's dive in!
Harness the power of AI with Motion, a smart solution that expertly crafts your daily schedules including meetings, tasks, and projects. Wave goodbye to the intricacies of scheduling and step into a life of enhanced productivity with this smart AI tool.
Supercharge your data extraction process with Parsio, an AI-powered document parser. Optimize your data parsing routines with our state-of-the-art AI-assisted PDF parser. Say goodbye to time-consuming data entry, and welcome efficient, automated data extraction with this innovative technology.
DeepBrain AI, an AI-powered video generator, offers top-quality video solutions with its AI Studios. It houses hyperrealistic Avatars and stands out among AI video SaaS providers. Create a video simply by typing a script. The chroma key function and ppt to video function make video production even more effortless. Give it a try for free. DeepBrain AI products have received accolades at the 2022 and 2023 CES awards, underlining their quality.
Introducing Cody, an intelligent AI assistant comparable to ChatGPT, but with the extra benefit of customization in line with your business, team, protocols, and clients. Cody is a reliable ally for your team, offering answers to queries, creative assistance, problem-solving capabilities, and brainstorming support.
In the digital era, managing an onslaught of emails can be overwhelming. This is where SaneBox comes in, your dependable assistant for handling your email, aiming to simplify your life. Focus on important emails, while the rest are sorted out seamlessly. SaneBox employs smart AI algorithms to analyze your email habits, declutters your inbox, and optimizes your digital communication.
Sembly AI offers a Software as a Service (SaaS) platform, utilizing AI algorithms to transcribe meetings into analyzable data, yielding actionable insights.
Craft stunning projects effortlessly with Adobe Express. It offers a wide array of templates, design resources, and Adobe Stock images, all included in the free plan. Use the Quick Actions feature for swift content resizing, file conversions, and effects addition, making the editing process faster and more efficient.
Easily create dazzling short video clips for your podcast with AudioLabs. Save precious time by delegating the editing to us, allowing you to focus on content creation. Access high-quality, personalized clips, ideal for promoting your podcast, video, or Spaces.
NVIDIA Canvas leverages the latest AI technology to transform simple brushstrokes into remarkably lifelike landscapes. This allows for rapid and seamless creation of vibrant backdrops, freeing up more time for innovative thought and vivid concept visualization.
Craft a standout brand that reflects your unique style with Looka. Use Looka's advanced AI technology to design a logo and establish a brand that resonates with your values.